20 Non-Scary Ways to Reduce Waste on Halloween
With Halloween quickly approaching, people around the world are brainstorming who or what they want to be on the last day of October. Some people are also deciding which costumes to buy for their pets… Yep. According to the NRF's Annual 2019 Halloween Spending Survey, 26% are planning to dress up their pets. Top pet costumes in 2019 include pumpkins, hot dogs and superheroes. If you are sure that the pup can't live without a cape, maybe buy a costume once and reuse it year after year? That would be a nice way to reduce waste! And I have 20 more spine-chilling tips for a green Halloween.
In today's blog post you'll find out:
- how to look spooky with a minimal impact on the environment + DIY costume ideas
- how to sustainably decorate your house + DIY ideas
- how to reduce waste when trick-or-treating
- how to host a low waste party
BEWARE: horrible puns.

Bone appetite!
costumes
use what you have
Let's all recall a famous pyramid by Sarah Lazarovic - The Buyerarchy of Needs. Its base-level represents the essence of sustainable living and tells us to use what we have. Seriously, check out the back of your closet, there might be a long forgotten vampire attire.
borrow or swap
Works just like your usual clothing swap but has a different atmosphere! Gather friends, tell them to bring the costumes they don't need/like anymore and swap with them! Don't forget pumpkin spice latte and horror movies.
rent
Every year I'm a witch. Probably, since I was nine or so. But if you are one of those people who doesn't like to repeat costumes, go to HalloweenCostumes.com and rent yourself one. Marty McFly, Alf or a two person horse costume - they've got everything there. Or simply google what services are near you.
thrift
If I were tired of dressing up like a witch and if I were going to a Halloween party this year, I would dress up like the guys from the Stranger Things series, because now is the time. The show is trending and thrift shops are full of the clothes from the 80's! Also check out ebay (filter for 'pre-owned'), Amazon (filter for 'used') and depop app.
make
Making a costume usually requires buying new accessories. But sustainability-wise it remains a better option than purchasing a completely new ready-to-go outfit! Below are some simple costumes made from the clothes you might have already. Just pin it:
Basically any black clothes you have
+ cat ears and a tail
+ makeup (try exaggerated cat eye and dark lipstick, or use facepaint to make a cat face)
Bathrobe or a teddy coat (still going strong?)
+ flowy floral dress + uggs or other ugly boots
+ plastic bag (reuse reuse reuse!)
+ plush cats (preferably borrowed)
Plaid shirt + boyfriend jeans
+ hiking boots or Timberlands + red beanie
+ worker's gloves + suspenders
+ a (toy) axe or a log
makeup & costume DIY here
Something tells me that if you are reading this blog post, you are into sustainable fashion. I bet you have some hippie stuff already: tie dye anything + wide leg jeans or pants + blouses and dresses with puffy sleeves + flower accessories + brown suede or leather accessories + flower crown + John Lennon glasses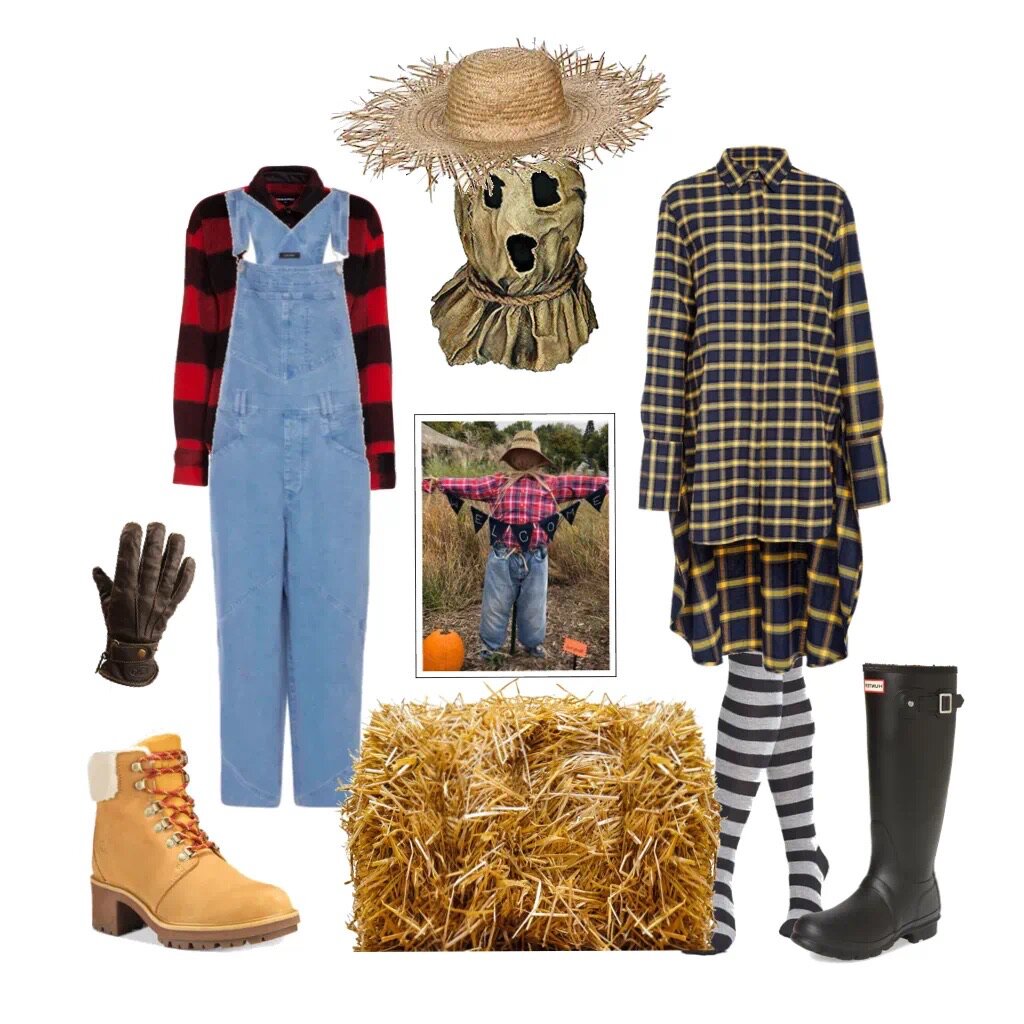 1) Plaid shirt + denim jumpsuit or jeans + boots
2) Plaid dress + knee socks + rain boots
+ gloves + straw hat (or a burlap sack mask) + more straw so it sticks out of your pockets and shoes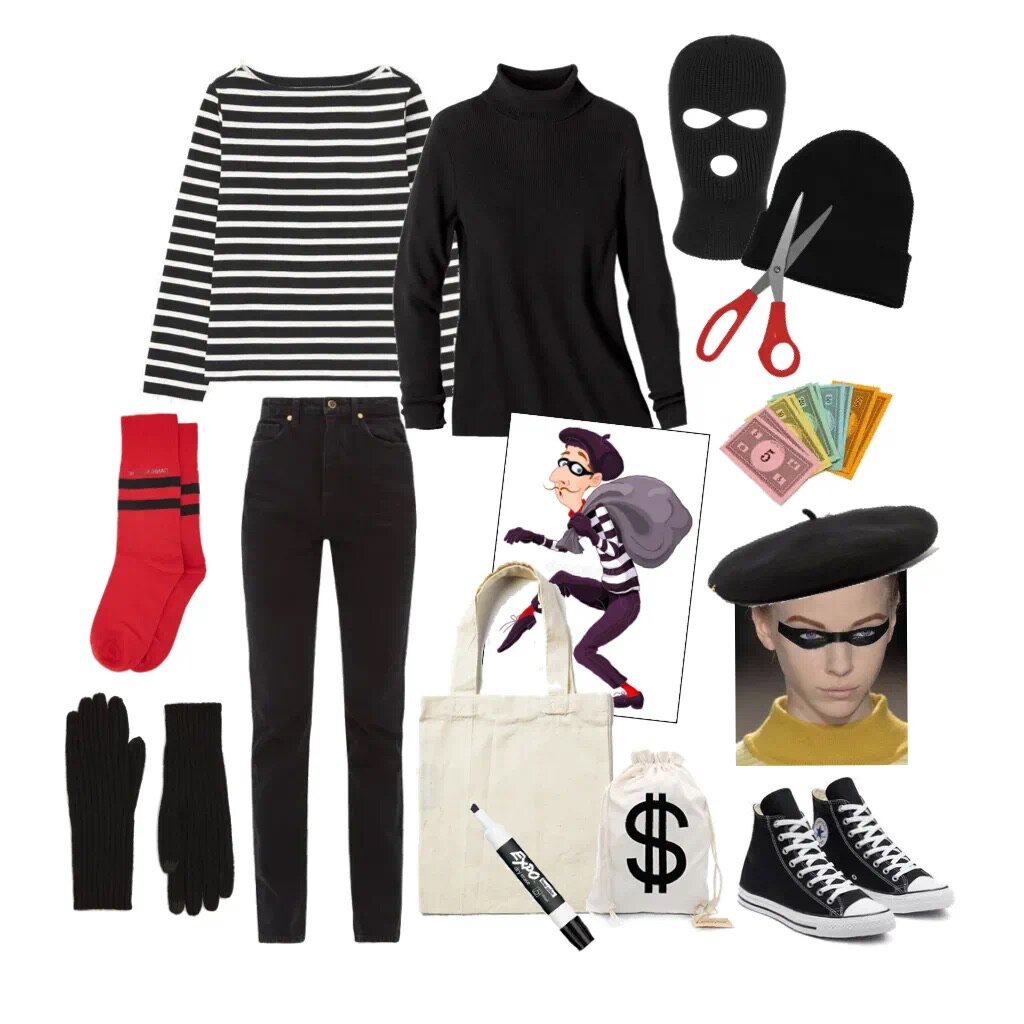 Striped long sleeve tee or a black turtleneck
+ black leggings or black slim trousers + kicks + black gloves
+ funny socks because why not + black beanie or a beret
+ canvas tote + fake money
makeup & costume DIY here
Another brilliant yet simple idea is from Kay @pawsandpines:
"A serial (cereal) killer costume allows you to wear whatever clothes you already have. All you add is a toy knife and an empty cereal box. The cereal box also serves to collect candy (I was ever the practical one).The costume gets you a nice chuckle once adults understand the pun, and you don't need to paint your face or spend money on one-use costumes!"
decorations
reuse decorations you used before
It's always the same stuff every yeah - pumpkins, spiderwebs, grave stones etc. And everything's made from cheap toxic plastic. Why buying new and contribute to pollutions when we can just storage and reuse the decorations for years to come?
decorate with natural materials
Natural is the new black! If I had a house I'd just put some pumpkins and lanterns outside. Also pine cones, corn stalks, straw or hay bales. All these things are nature-made and biodegradable.
make your own with recyclable materials
You can make garlands from paper waste like old bills or reports. Choose the shape, paint it black for bats / orange for pumpkins / white for ghosts, and then glue the figures to a hemp cord. Also, you can make garlands with bright tree leaves and pine cones! Check out my Pinterest board for more ideas.
If you'd like to add some lights, go for solar powered or LED lights. Make sure they are of good quality so you can reuse them next year or for other holidays. I think these candles would set the atmosphere too.
consider painting the pumpkin, not carving it
This way it will last longer and you'll be able to eat all this orange goodness. Don't forget to roast the seeds! It's a tasty healthy snack. Here you can find some my fav recipes like pumpkin cinnamon rolls, no bake pumpkin cheesecake pie, pumpkin fry bread or even pumpkin body lotion and scrub!
feed pumpkin to animals
Some dogs and even cats might enjoy a slice of pumpkin (i'm not your vet tho). Hamsters, rabbits, horses all eat veggies. Maybe call a local farm or a shelter to ask if they need some pumpkins.
or compost the rest
If you don't have a compost pile, find a shady spot in your garden and place your hollow pumpkin there. Smash the pumpkin into smaller pieces to increase its surface and speed up the composting. Then loosely cover the pumpkin mash with leaves to protect it from pests while airing it out to ensure a balanced breakdown. Here's a very ice graphic from Environmental Industries Associations.
And remember, you can cut and freeze the pumpkin to cook it later or feed to animals!
trick-or-treat
make your own treats
Coffin Sandwich Cookies, Hats and Bats Chocolate Tarts, Marshmallow Ghost Brownies or Bloody Truffles - set your imagination free! I have pinned many ideas here. Your kids will love making treats, other kids will love getting these treats instead of a 'usual' candy.
buy candy in bilk or in recyclable packaging
I understand that not everyone has time and energy to bake. In this case opt for candy in bulk or in recyclable packaging as it cuts down waste. Sweets without wrapping can be handed down in cloth goodie bags.
Canned soda is a good option too as aluminium is recyclable, however aluminium wrapping is not accepted everywhere.
consider giving non-edibles
To save young brains from sugar craze consider giving to kids paperless crayons, pencils, natural rubber erasers or pencil toppers. Here's a good article about sustainable swaps for school supplies.
I'd give away seed balls. It's low waste, easy to make and not expensive, and kids would be very curious to see how a plant would grow from the ball! Or small painted pumpkins. They are cute and can be cooked later.
This requires some time if you want to make them handmade. But you can also simply print the cards on a recycled paper! The idea that even one child might become interested in upcycling makes me melt. Isn't it magical how one card might change someone's habits?
bring your own container
Paper bags are as bad as plastic bags. It takes recourses to grow a tree and then make paper from it. Ditch disposables and give your kids a canvas tote, a decorated pillowcase, drawstring bags or a backpack/handbag.
hosting a party
use edible foods as your decorations
Things can be both tasty and disgusting at the same time: try this pumpkin puking with guacamole (chips & dip), looking like fingers sausages, a skeleton filled with cold cuts and jelly-worms… You get the idea.
use real or reusable plates and cutlery
Save disposable plates and cutlery from haunting the nearest landfill for years to come: use real stuff. It can also be made from plastic, but a thicker, reusable type. Or bamboo plates. They are light and won't break if the party takes a funny turn. Ah, if plates and cups are of neutral colour, you'll be able to use them on other occasions too. But best tip would be to serve finger food that can be eaten without plates - everyone is happy and no one gives a fork.
play green
For games and activities use things around the house or use the backside of used paper sheets if you need to make cards or write things down.
Some of the fun games for adults (although everyone loves bobbing for apples):
Finish a Horror Story — when you send the invitations to your party, include an open-ended horror story, and ask the guests to come up with an ending to the story and be prepared to share it at the party.

Name the Monster — every guest gets a random monster picture put on her/his back, nobody gets to see their own monster; as the party goes, they are allowed to ask yes or no questions to figure out what monsters they have on their backs.

Mystery Card Games are my favourite — Black Stories, Mind Trap Shadow Mysteries, or Mafia: believe me, everybody will want MORE! Even after Halloween (also you can find these games secondhand)
think ahead
"Responsible Halloween Recycling Puts the 'Caring' in Scaring" I read somewhere. Anything can be made 'greener' if we put a thought in it. Why terrorising the planet when we can terrorise our neighbours?
I hope that making Halloween more sustainable seems easy now, and that you found some inspiration in my blog post! I will be adding more pins to my Sustainable Halloween board, so follow along if you'd like to.
And please allow me for the last time:
What did the mummy say when Halloween was over?
That's a wrap!
This page contains affiliate links. You can read what it means here.